Introduction: The process of conducting draws for championships, cup games, and other tournaments in the world of football and other sports can be complex and time-consuming. However, with the advancement of modern technology and the development of the DrawEvent project, we offer a new approach that significantly simplifies and automates this process.
Key Functionalities of the Project: The key functionalities of the DrawEvent project are crucial for its successful implementation and the convenience of conducting draws for various tournaments. When using DrawEvent, the system instantly displays the necessary information on the monitor screen, TV screen, or projector when announcing teams or participants during the draw. Prior to the draw, the system allows customization of thematic background images, tournament or competition logos, and the addition of additional text if needed. During the draw, the system displays a list of teams or participants on the screen, along with a table that matches the teams that will be playing against each other. This provides participants and spectators with a clear understanding of the draw and enhances transparency and fairness in the process.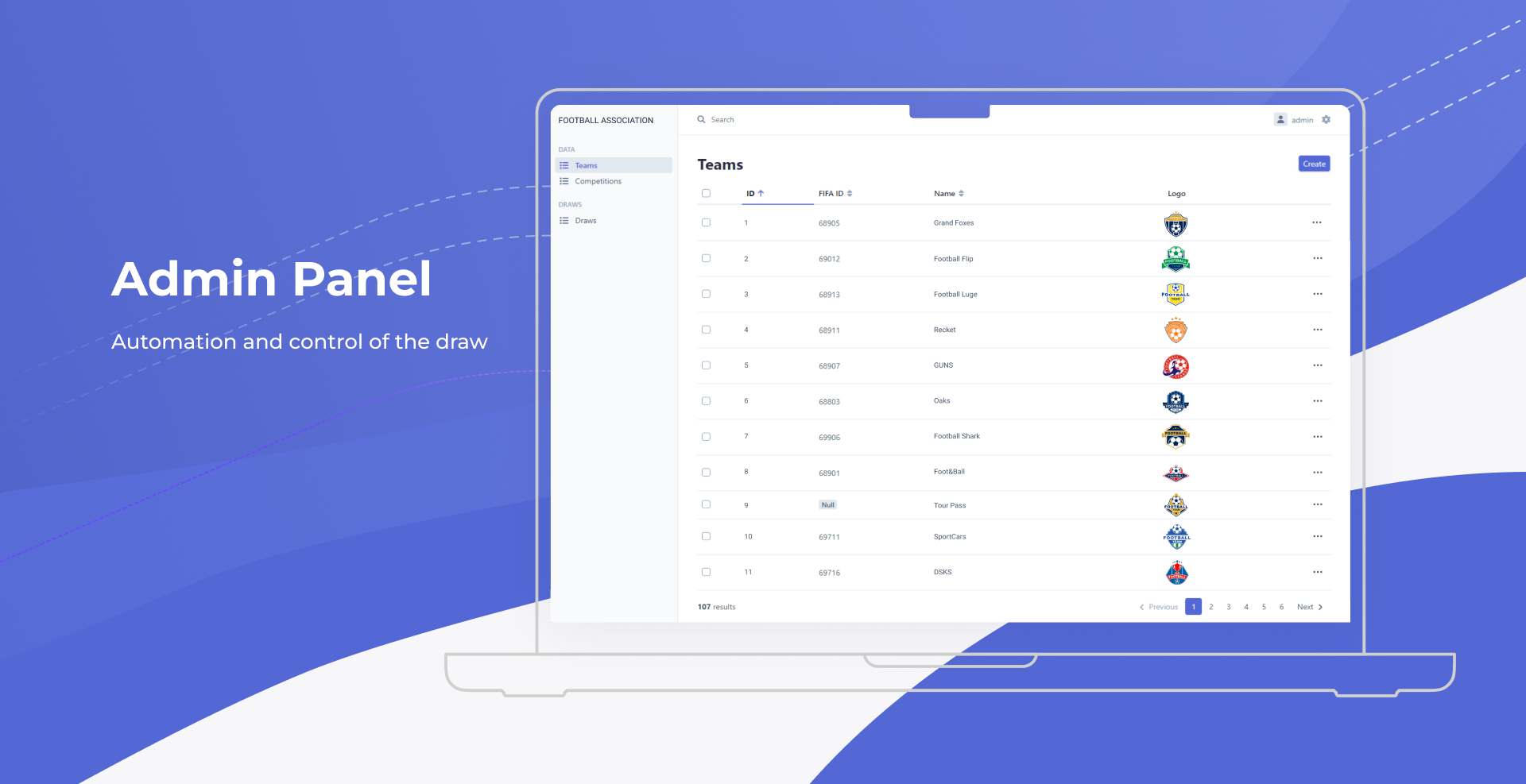 Additionally, when conducting draws for game schedules of championship events, DrawEvent can immediately conduct draws for an unlimited number of future rounds or stages, simplifying tournament planning and organization. Upon completion of the draw, a table displaying the list of teams or participants who will be playing against each other is presented on the screen. Together, these functionalities ensure the convenience, efficiency, and reliability of the draw process for football and other sports tournaments.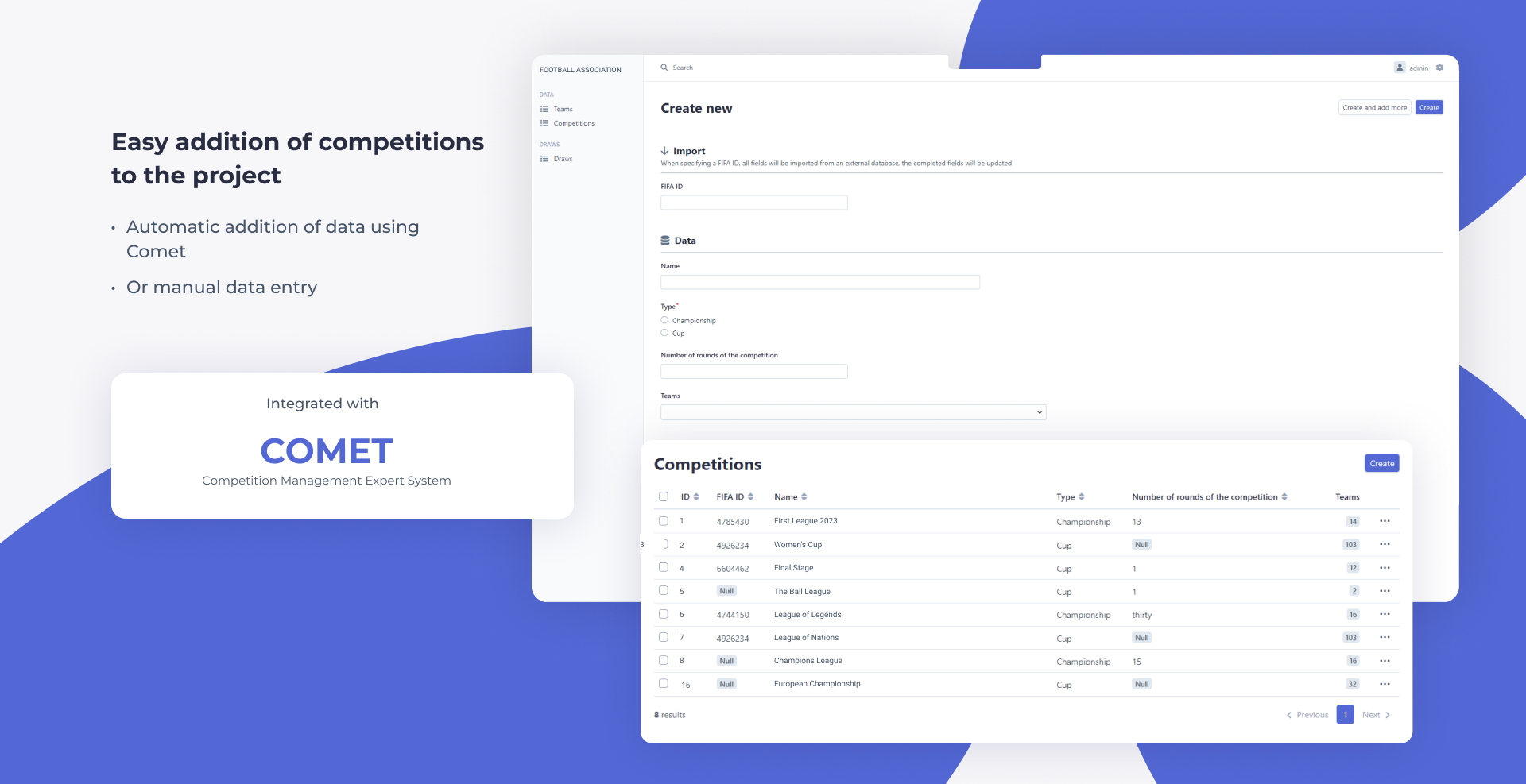 Key Features and Advantages of the Project: The DrawEvent project takes into account various characteristics and requirements associated with conducting tournament draws. Here are some of them:
1. Offline and Online System: We have developed two versions of the project, considering situations where draws are conducted in locations with limited or no internet access.
The offline version of DrawEvent is designed to be installed on personal computers running the Windows operating system. It possesses all the functionalities and capabilities of the online version but does not require a continuous internet connection. This is especially useful when draws are conducted in remote or isolated areas where stable internet connectivity may be problematic. The offline version of DrawEvent ensures reliability and stability of operation and allows draws to be conducted without delays or interruptions.
On the other hand, the online version of DrawEvent is accessible through a web browser and allows users to conduct real-time draws from any internet-enabled device. This enables tournament organizers and users to easily utilize DrawEvent in any situation where there is an internet connection. It is important to note that both versions of the product - offline and online - are identical in terms of functionality and capabilities, ensuring consistency and uniformity in the draw process regardless of the chosen usage option.
Thus, the development of two versions of DrawEvent - offline and online - allows us to meet diverse user needs and provide flexibility in using the project in various conditions. Regardless of where and how the draw takes place, DrawEvent guarantees reliability, efficiency, and user-friendliness for all football and other sports tournaments.
2. Data Export: An important feature of the DrawEvent project is the ability to export data. The system allows users to save draw results in XML format or send them via email as an XML file, facilitating convenient information exchange and integration with other systems. When exporting data to an XML file, DrawEvent displays a complete list of all previously defined rounds or stages. This includes information about the teams or participants involved in the draw and the tables that match these teams or participants who will compete against each other.
Exporting data in XML format offers several advantages. Firstly, XML is a universal format supported by many software products and systems. This allows for easy information exchange between DrawEvent and other applications, such as tournament management systems like COMET or similar services. Secondly, storing data in a structured XML format ensures data integrity and the ability to import data later without loss of integrity and accuracy.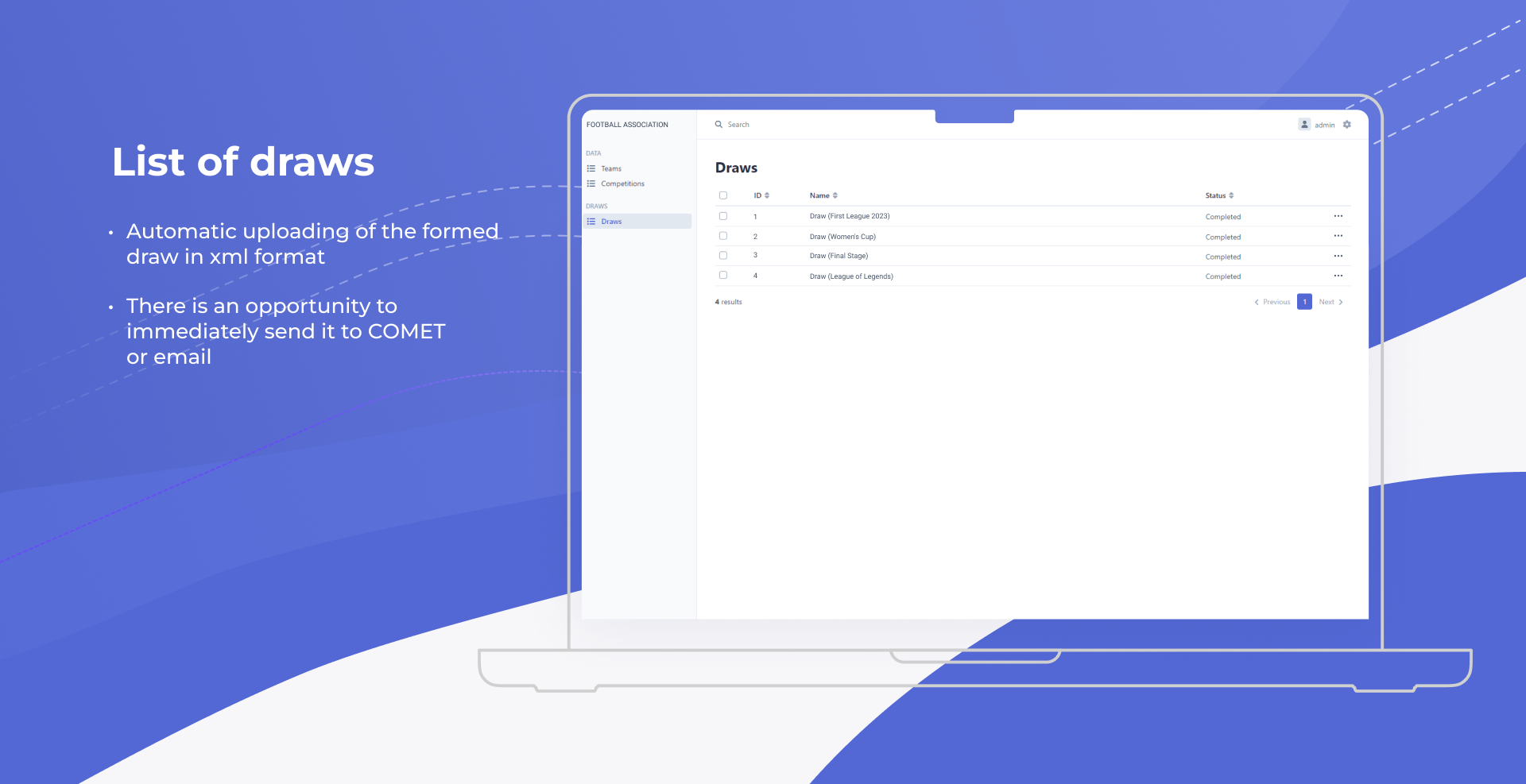 3. Customization and Styling: Each tournament, team, or participant has the ability for individual customization, including background, colors, logo, text, and other elements. This allows for system adaptation to specific requirements and tournament branding.
4. Flexible Editing: DrawEvent offers the ability to customize and edit information about teams, participants, tournaments, and other data during the draw process. This gives users full control over the entire process.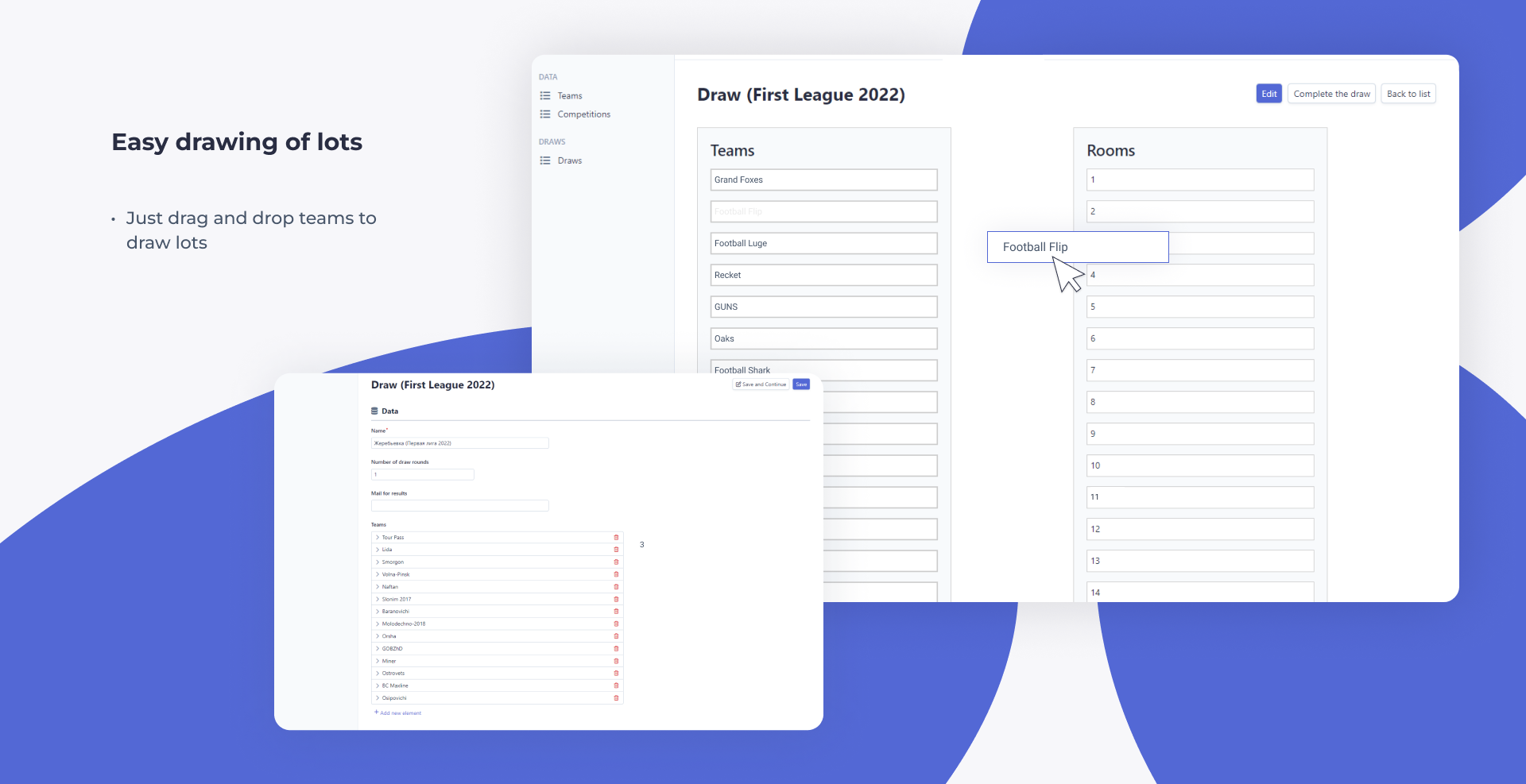 5. Integration with Platforms: The DrawEvent system can be integrated with COMET and GeniusSport platforms, as well as other similar services, to automate the import of tournament data, competitions, teams, and participants. This simplifies the process of information exchange and enhances efficiency.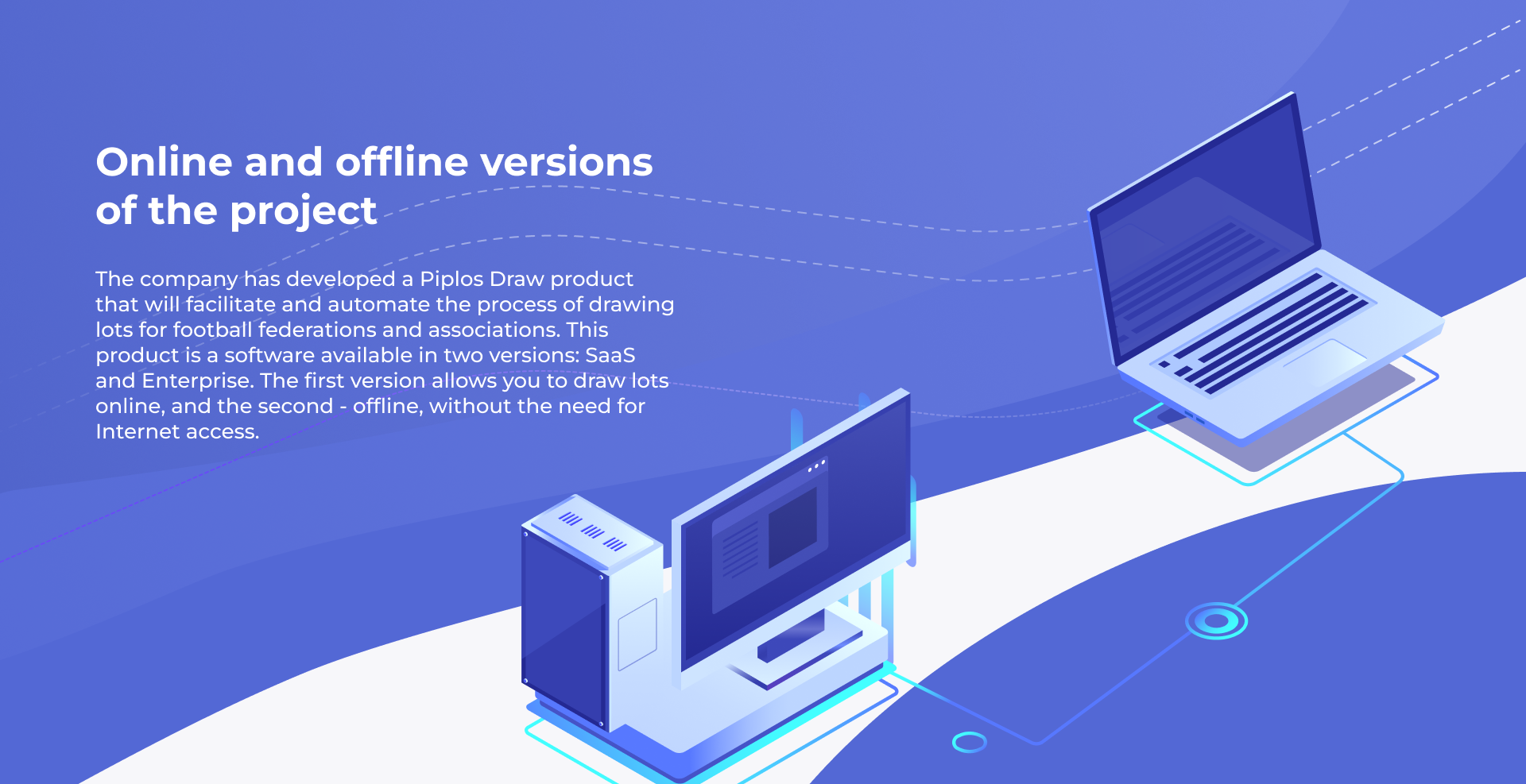 Use of Technologies in the Project: The DrawEvent project is built entirely on the use of modern IT technologies. We utilize programming languages that allow us to develop flexible and scalable solutions. Database technologies enable us to store and manage information about tournaments, teams, and participants. For data visualization, we employ modern tools and frameworks that ensure effective display of information on screens.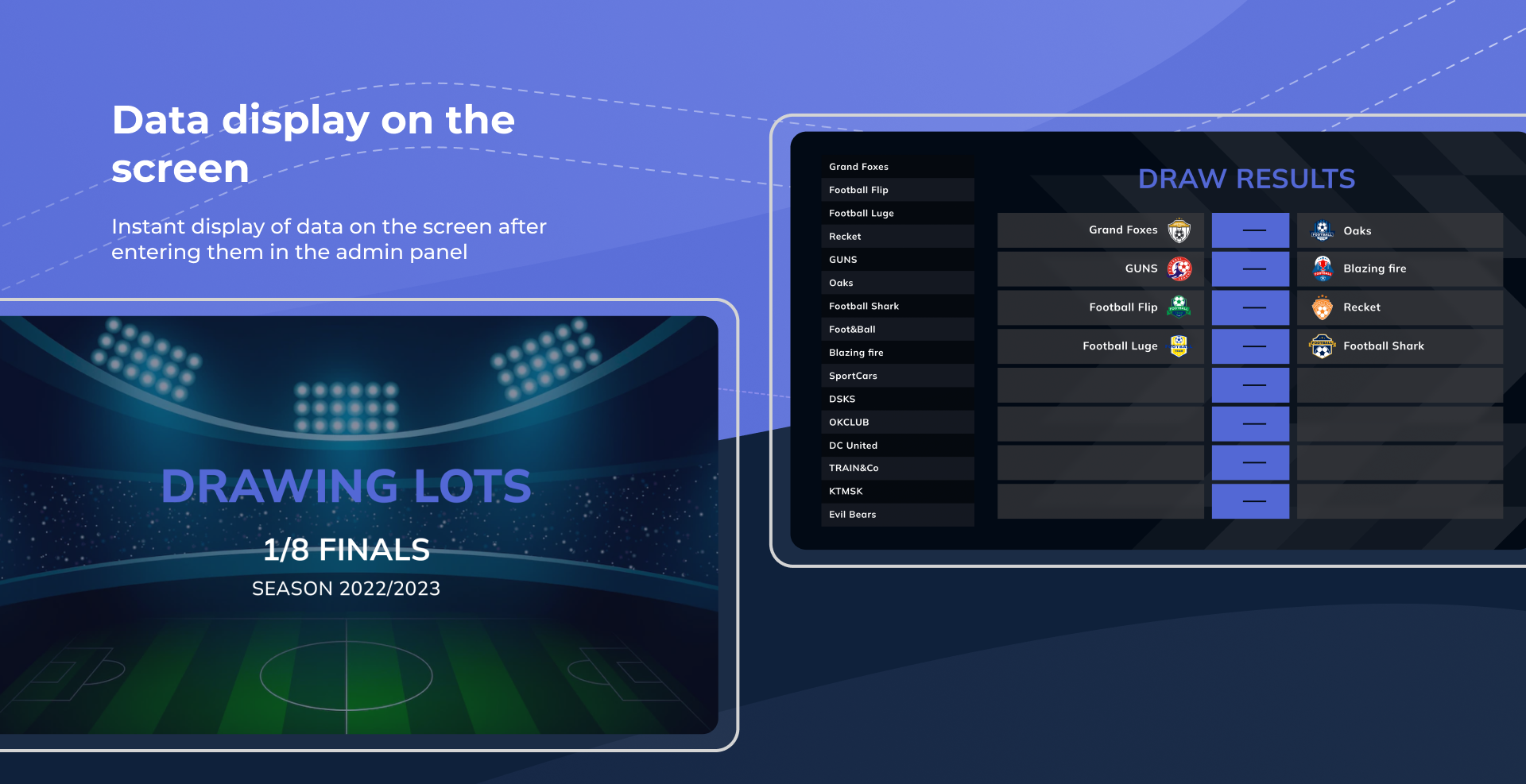 Conclusion: The DrawEvent project is a powerful tool for automating and simplifying draws in football and other sports tournaments. Its flexibility, customization, and integration capabilities make it an invaluable assistant for tournament organizers and administrators. The implementation of modern IT technologies in this field opens up new possibilities and enhances the efficiency of conducting sports events..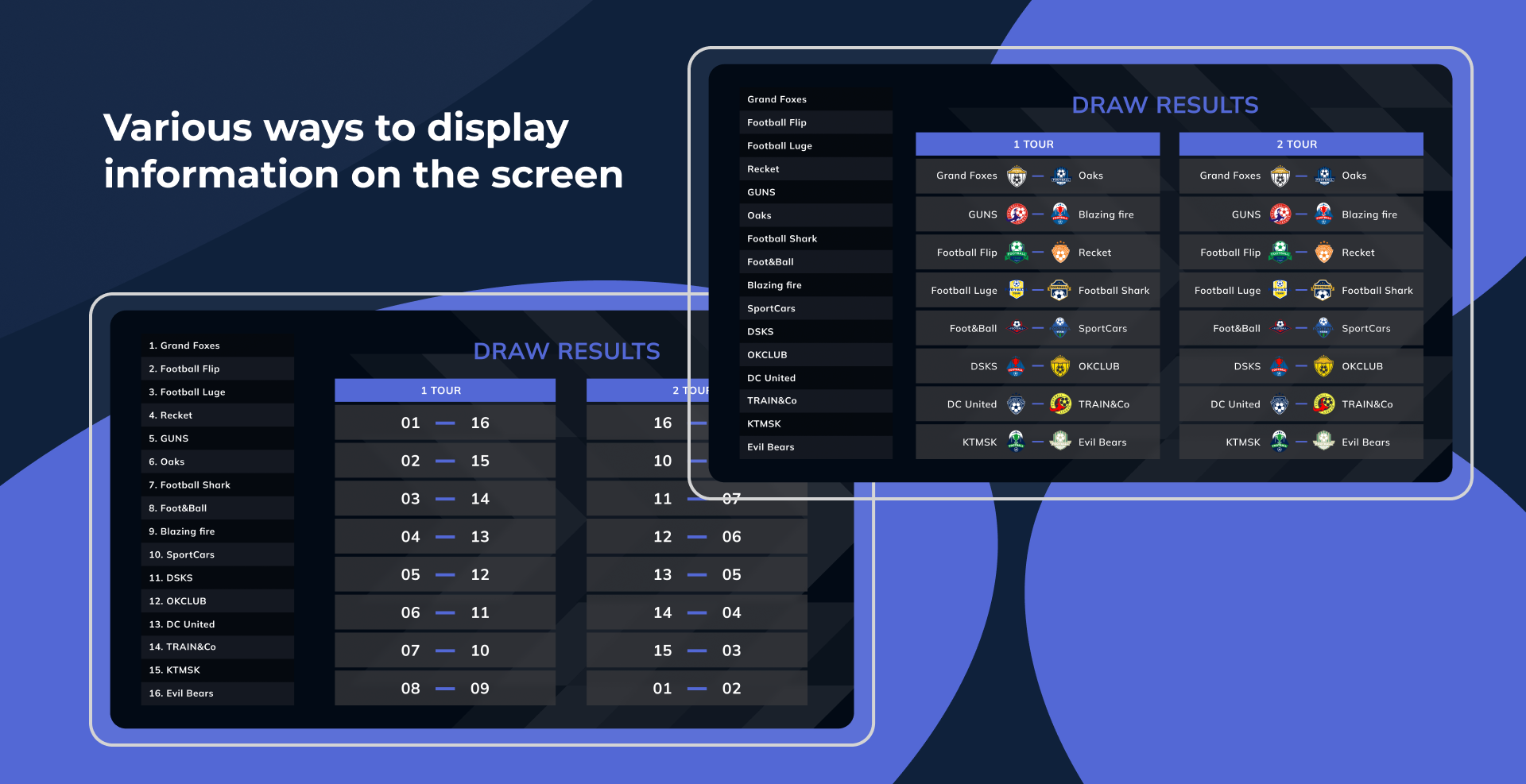 )